Delaware public records can be pretty complicated to navigate, and Records Page aims to make this process easier and simpler from start to finish. We are a free resource for searching up any information you need in Delaware, whether it's criminal, court, vital, or inmate records.
Use the resources below to find the records you need, or check out our form to search for all of this information in one place.
Public Information & State Records Laws in Delaware
The Delaware Freedom of Information Act (Delaware FOIA) ensures public access to records of governmental bodies in the state, as defined in § 10001 to 10005.1
Apart from governmental agencies that provide this service for a fee, some third-party sites also allow the public to search public record repositories. These third-party sites are usually free and may have access to a broader database than state agencies.
No matter which method someone goes with, the main types of Delaware public records include:
Criminal records
Court records
Vital records
Inmate records
Whatever the record type, the requester must know where to find it, which jurisdiction or court to search, and how to navigate the vast amount of governmental agencies to any sort of public records, but luckily we've made it easy to find an array of public records.
Delaware's Criminal Records
The Delaware State Police (DSP) handles all public criminal records in the state.1 A criminal history or rap sheet provided by the DSP will usually contain:
Full name
Date of birth
Mugshot
Fingerprints
Most recent addresses
Active and past warrants
Misdemeanor and felony charges
Sex offender status (if applicable)
Where the arrest took place and the law enforcement agency that conducted it
Delaware criminal records can be pretty helpful for employers to perform background checks on current and prospective employees, especially for jobs that require looking after the elderly, social work, etc.
Who Can Search Delaware Criminal Records?
Anybody can search for their own Delaware state records, and prospective employers can ask employees to provide the same. However, obtaining someone's criminal records requires their fingerprints, so nobody can look up someone's criminal record without consent.
Employees looking for jobs in facilities that provide long-term care to the elderly, the disabled, etc. have to provide a criminal background check through the Background Check Center (BCC), which accumulates information from nine sources:3
Adult abuse registry
Certified nursing assistant registry
Sex offender registry
Office of the Inspector General registry
Child protection registry
Division of professional regulation registry
State and federal criminal background checks
Drug screening
Service letters from prior employers
However, no other employers can use the BCC for background checks. Under Ban-the-Box laws (House Bill 167), government agencies are also barred from obtaining a criminal record until the employee has a conditional offer of employment.4
How Do I Find Criminal Records in Delaware?
To obtain Delaware criminal records, citizens will have to visit the DPS State Bureau of Identification (SBI) located in Kent County, Sussex County, and New Castle County.5 They must take a valid ID and payment, such as a driver's license or other state ID. Parents must accompany people under 18.
Kent:
600 South Bay Rd.
Suite 1
Dover, DE 19901
Phone: (302) 739 5871
Sussex (appointment required):
Thurman Adams State Service Center
546 S. Bedford St.
Room 202
Georgetown, DE 19947
Phone: (302) 739 2528 
New Castle (appointment required):
Delaware State Police Troop 2
Route 40
West of Fox Run Shopping Center
Bear, DE 19701
Phone: (302) 739 2528 
Out-of-state residents can apply for a certified criminal background check by mail if they follow these steps:
Print the FD-258 fingerprint card on the Federal Bureau of Investigation's (FBI's) website.
Fill out the fingerprint card with full name, aliases, date of birth, address, social security number, race, height, sex, weight, eye color, hair color, and place of birth.
Visit the local police agency to obtain fingerprints.
Write out an unnotarized authorization letter (for state background checks) or obtain authorization from the concerned board (for federal checks) granting permission to the DOS to conduct a background check.
Mail it, along with the fees, to:
Delaware State Police (DSP) – State Bureau of Identification (SBI)
PO Box 430
Dover, DE 19903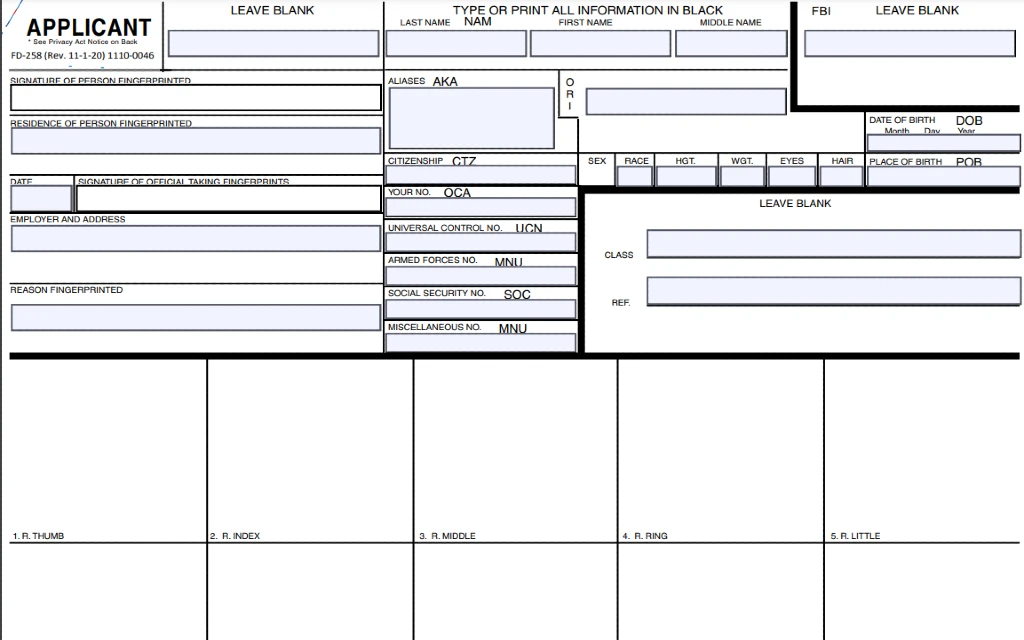 A State of Delaware Criminal Background Check will cost $52.00, while a State and Federal Criminal Background Check will be $65.00 but must be mandated by law. Requesters can pay by:
Cash (not at Sussex County)
Credit card
Debit card
Certified check
Money order
Company check
Make out any checks and money orders to Delaware State Police. 
People can also look up civil cases tried in the Superior Court, Court of Common Pleas, and Justice of the Peace Court by name.
How to Look Up Arrest Records in Delaware
The criminal records provided by the SBI contain arrest records for the subject, so there is no need to look up recent arrests separately in Delaware. However, searchers can contact their local Sheriff's office or police department for information before requesting a criminal record.
How to Locate Criminal Records Photos (Mugshots) in Delaware
Mugshots are public records in Delaware and may be used in a subject's criminal history, court records, sex offender registry listing, inmate record, etc. So, the best way to obtain someone's mugshot is to procure one of these records.
Can the Public Access Delaware Juvenile Records or Criminal History?
According to Delaware Code Title 10, Statute 1009, juveniles are not criminals.6 Instead, they're only adjudicated as delinquents. They can access their criminal histories (accompanied by their parents) similarly to adults, but no other agencies can.
Only some criminal justice agencies, certain employers mandated by law to obtain a criminal history, government agencies with authority, or the juvenile's attorney can get such information.
After turning 18, people can obtain their criminal history and get their juvenile records sealed or expunged by filing a petition for expungement of a juvenile record.7 This process can take two forms:
Mandatory expungement, where a court must seal the record upon petition. This can happen if a case terminated in the subject's favor, the charge was an underage alcohol drinking, possession of marijuana or drug paraphernalia charge, or a single non-violent felony adjudication from which three years have passed.
Discretionary expungement is based on the judge's discretion under several circumstances.
How to Find Out if You Have Warrants Out in Delaware (Free Warrant Checker)
Delaware has a central Warrant Search operated by the Delaware Criminal Justice Information System.8,9  Anyone can find out if they have a warrant out for them by entering their first and last name.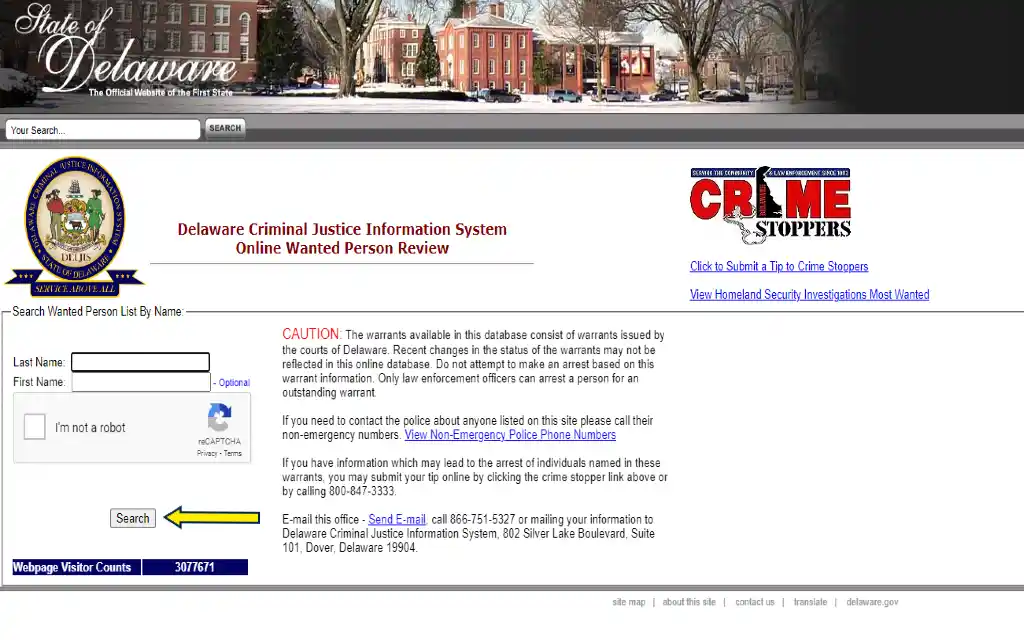 The warrant search will show multiple results, and the searcher can go through all of them to look for their warrant information. This record will usually contain:
Mugshot
Full name
Birthdate
Race
Sex
Aliases
Warrant number
The court that issued the warrant
Warrant charge
People can also contact their local Sheriff's office or police department if needed.
How to Look Up Sex Offenders in Delaware
The Delaware State Police (DSP) maintains the sex offender registry in Delaware and provides an online Search Tool through which anyone can search the registry.10 A person's sex offender entry information will provide their:
Photograph or mugshot
Full name
Aliases
Risk level (1, 2, or 3)
Verification date
Registration date
Prison status
Conviction location (in or out of Delaware)
Repeat offender status
Police agency information
Birthdate
Gender
Race
Skin color
Height
Weight
Eye color
Hair color
Scars, marks, and tattoos
Addresses (home, work, and school)
Vehicle information
Conviction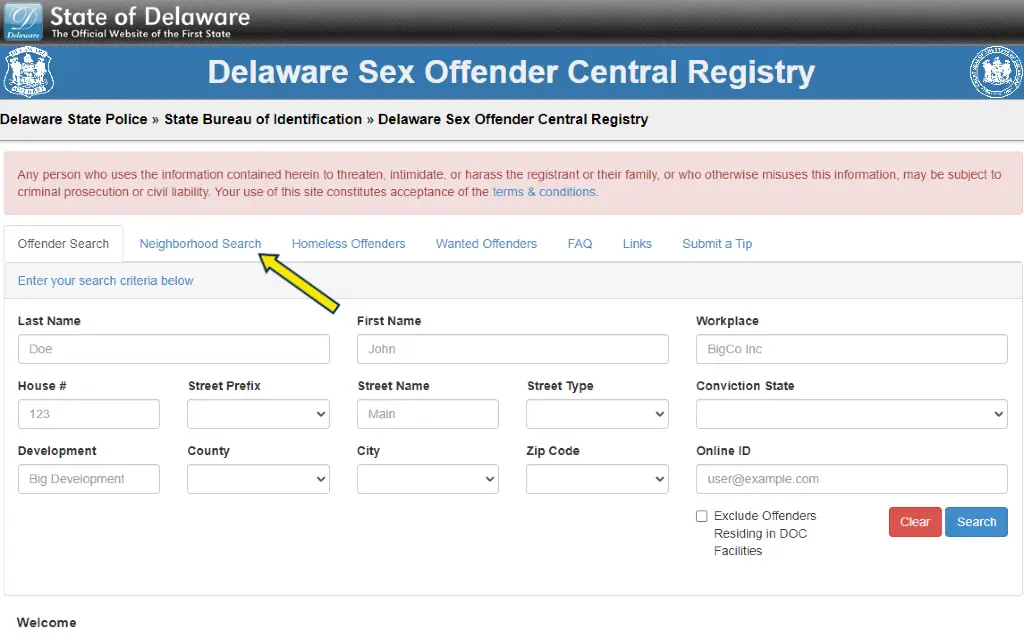 For an Offender Search, the searcher will have to provide the offender's last name, city, county, zip code, workplace, or online ID. For a more accurate search, they can enter first name, house number, street prefix and name, street type, development type, and conviction state.
Citizens can also search for only homeless or wanted offenders by choosing the appropriate option from the drop-down menu.
Other than the name search, people can also look for offenders in their area by selecting Neighborhood Search, zooming into their neighborhood, and clicking the Search button.
How to Run Background Checks in Delaware
Delaware background checks are easy to obtain through the DSP's State Identification Bureau (SBI). However, these Delaware public records will only let you know if someone has been charged with a crime and not much else.
To find out information beyond if someone has a criminal record, employers and other people can use third-party sites or consumer reporting agencies (CRAs) to obtain identity verification, domestic terrorist watchlist checks, employment, and education verification, etc. Employers need to only use FCRA-compliant websites for background checks, though.
However, going by the Fair Credit Reporting Act (FCRA), CRAs cannot show any non-criminal convictions older than seven years (unless the job pays more than $75,000 per annum) and have to obtain the subject's consent before performing a background check. Most will also require a fee from the employer.11,12
Delaware Court Records (Public Access)
Court records are public in Delaware, and Delaware Courts maintain both civil and criminal case information.13 In Delaware, the Judiciary consists of:
The Justice of the Peace Court – Handles civil cases where the disputed amount is less than $25,000 in addition to certain misdemeanors.
The Court of Common Pleas – handles cases where the amount is less than $75,000 and all misdemeanors except drug and traffic offenses.
The Family Court – Handles almost all family and juvenile cases.
The Superior Court – Has jurisdiction over all civil and criminal cases except equity cases (where remedies don't include monetary damages).
The Court of Chancery – Has jurisdiction over all equity cases, such as corporate issues, trusts, estates, etc.
The Supreme Court – Handles all appeals from the Court of Chancery, the Superior Court, and the Family Court.14
All citizens can access civil court case information from the Superior Court, Court of Common Pleas, and Justice of the Peace Court. This excludes sealed court records and juvenile cases, where only the minor can obtain data, criminal justice or government agencies with authority, certain employers mandated to get court and criminal history by law, and the juvenile's attorney.
Criminal court information is only accessible through obtaining someone's criminal record.
Delaware public court records generally include:
Case ID
Start and end date
Case caption (John Doe v Jane Smith)
Filing date
Type
Status (new, satisfied, closed, etc.)
Related cases
Event schedule (further court dates, etc.)
Parties involved
Attorneys representing the parties
Judge, Commissioner, Sheriff, and other governmental parties involved
How to Search Delaware Court Records Database
Delaware Courts maintains an online directory of Delaware public records called CourtConnect, where concerned citizens can search for cases, trials, or judgments by name.15 There are no fees involved, and searchers can provide:
Last name or company name (mandatory)
First and middle name
Beginning case filing date
Ending case filing date
Case type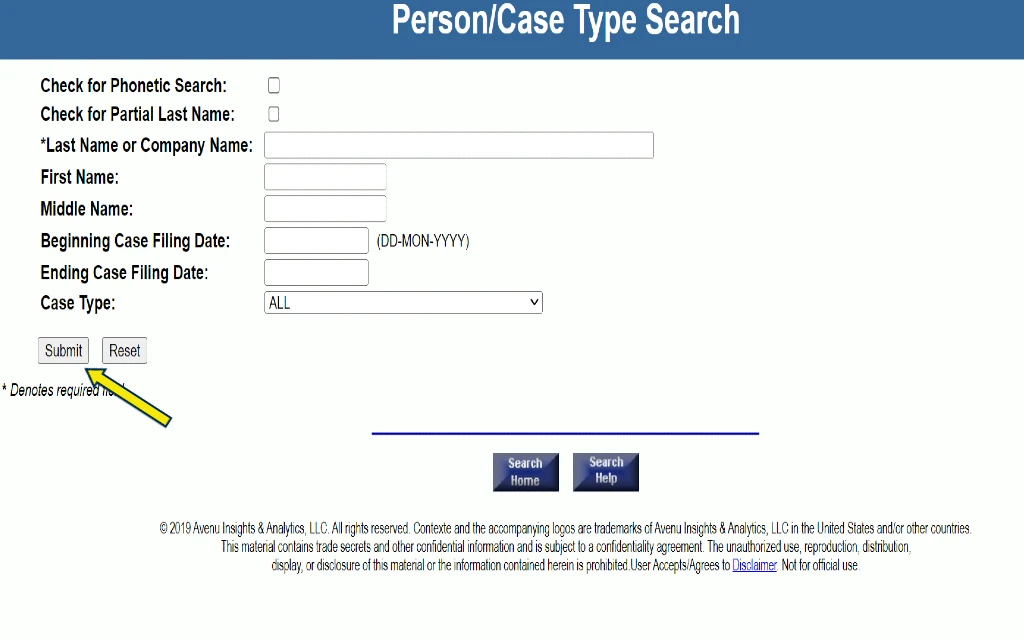 Concerned parties can also look up case activity using case ID by selecting the "Display case information and activities" option.
For the Supreme Court, the public can find case information on the Delaware Courts website.16 The Court of Chancery also has online records available on File & ServeXpress.17
Family court records are not available electronically, and the public can only acquire them by calling the court at:
Kent: (302) 672 1000
Sussex: (302) 855 7400
New Castle: (302) 255 0300
How to Look Up Bankruptcy Records and Information in Delaware
The District of Delaware branch of the United States Bankruptcy Court provides a database of opinions on its website from the year 2000 onwards, which people can filter by judge and year.18 They can also enter the case number for a more accurate search.
For case information, citizens can use one of the following three options:
Go to PACER (Public Access to Court Electronic Records) and search for the Delaware Bankruptcy Court.19,20 This option costs $0.08 per page for case information.
Call the Voice Case Information System (VCIS) at 866 222 8029. This system provides basic case information by entering the case number, party name, or social security number.
Visit the National Archives for closed bankruptcy cases.21 Searchers must provide the name of the court where the case was filed, the case number, party names, and time period and send it to the National Archives by email, mail, or phone. Although searching is free, people may have to pay a fee if the Archive finds relevant records.

Delaware Inmate Information
Delaware houses more than 3,000 inmates and 9,000 probationers every day. Citizens can find information on all inmates online or through the phone. A prison background check will include:
Mugshot or photograph
Full name
Offender ID
Date of birth
Age
Race
Gender
Custody status
Location of offender
This information can be helpful to anyone looking to send money to or visit an inmate, or for victims who want to know where an inmate currently resides.
How to Search Jails for Delaware Inmates
While Delaware's Department of Corrections manages both jails and prisons, the Bureau of Community Corrections specifically handles probationers and parolees. There are five levels of supervision involved, namely:
Level I: Low-risk probation/parole
Level II: Moderate risk probation/parole
Level III: High-risk probation/parole
Level IV: Home confinement
Level V: Electronic monitoring
The Delaware Department of Correction (DOC) recommends using VINELink to find out if someone was arrested or is in jail, the online equivalent to the Victim Information and Notification Everyday (VINE) system provided by the National Victim Notification Network.22,23,24 VINELink is also available as an app.
Anyone can search for an inmate by entering their full name, offender ID, or case number here. If the full name or number is unknown, ticking the "partial name" or "partial number" box will let users search regardless. People can also choose to be notified of a change in custody for the concerned inmate via phone, email, or teletypewriter.
A recent contract with the state of Pennsylvania resulted in the transfer of many prisoners to Pennsylvania prisons. If someone is trying to contact an inmate affected by this, they'll have to use Pennsylvanian search tools.
Delaware Bureau of Community Corrections
How to Search Prisons for Delaware Inmates
Delaware has a unified correctional system, which means that the state operates all jails and prisons. If incarcerated for more than a year, it is considered a prison sentence. A shorter sentence is a jail term.
Prison sentences are managed by the Bureau of Prisons. Delaware has five levels of supervision when it comes to prison inmates, in ascending order of severity:
Level I: Administrative supervision without probation, i.e., the offender doesn't need to check in with a probation officer regularly
Level II: Standard probation, i.e., the offender needs to check in with a probation officer regularly
Level III: Intensive probation supervision, i.e., a more focused form of probation
Level IV: House arrest with electronic monitoring, drug treatment, and work release centers, violation of probation centers
Level V: 24 hours in jail or prison22222
Citizens can use VINELink to search for all inmates, whether they're in jail or prison. If people can't find an inmate, they can contact the concerned county jail to determine their status.
| | | | |
| --- | --- | --- | --- |
| Facility | Phone | Address | Website |
| Baylor Women's Correctional Institution | (302) 577 3004 | 660 Baylor Blvd., New Castle, DE, 19720 | https://doc.delaware.gov/views/bureaus_divisions.blade.shtml |
| Howard R. Young Correctional Institution | (302) 429 7700 | 1301 East 12th St., PO Box 9279, Wilmington, DE, 19801 | https://doc.delaware.gov/views/hryci.blade.shtml |
| James T. Vaughn Correctional Center | (302) 653 9261 | 1181 Paddock Rd., Smyrna, DE, 19977 | https://doc.delaware.gov/views/jtvcc.blade.shtml |
| Sussex Correctional Institution | (302) 856 5280 | 23203 Dupont Boulevard, Georgetown, DE, 19947 | https://doc.delaware.gov/views/sussexci.blade.shtml |
How to Find Out When an Inmate Will be Released in Delaware
VINELink provides an inmate's release date, but the platform deletes information approximately two weeks after release. If someone can't find an inmate's data, it would be best to contact the concerned county's Sheriff.
Visit Delaware Inmates & Put Money on File
To send money to a Delaware inmate, friends and family must write out a money order addressed to the inmate, including their full name, SBI number, place of custody or institution, and the sender's name, and either mail it to the facility or drop it off during a visit. This money will show up in the offender's account within 24 hours.
The Howard R. Young Correctional Institute does not allow prisoners to receive money orders. Instead, citizens can:
Create a pre-paid phone account by calling 1-866-230-7761 or visiting ConnectNetwork.25
Create a pre-paid video visitation account by visiting GettingOut.26
Friends and family can contact the concerned prison via phone by visiting the Delaware DOC if they wish to visit an inmate.27  People won't have to spend a lot of time figuring out how to get jail paperwork, but they'll have to fill out a consent form stating that they allow the DOC to conduct COVID-19 screenings for the foreseeable future.
Delaware's Vital Records & DHSS
The Delaware Department of Health and Social Services (DHSS) maintains vital records in the state.28 For any Delaware citizen wondering "Are marriage records public?" Delaware vital records are generally only available to the person named on the certificate and their parents, spouses, adult children, or legal guardians.
Hence, people can't find out if someone is recently married through official vital records, but online services and third-party sites may be able to determine if someone is married by scraping the web for related people and other methods.
The only exceptions are public divorce records, which are open to the masses for informational purposes. However, only the named parties and their direct relations can obtain a certified copy.
Birth records become public information after 72 years, marriage records after 50 years, and death records after 40 years. Once they become public information, they're transferred to the Delaware Public Archives (DPA).29
Find or Replace Delaware Vital Records & Certificates
For records you're authorized to access, the public can either order them online through VitalChek or GoCertificates or get them in person or by mail.30,31 If ordering by mail or in person, citizens can fill out the correct form and mail it or submit it to any of three offices:
Jesse S. Cooper Building
417 Federal St.
Dover, DE 19901 
Chopin Building
258 Chapman Road
Newark, DE 19702
Thurman Adams State Service Center
546 S. Bedford Street
Georgetown, DE 19947
The public must be sure to get the correct form and write a check payable to the Office of Vital Statistics for the processing fee of $25. A money order will also work. The relevant forms and fees are seen here: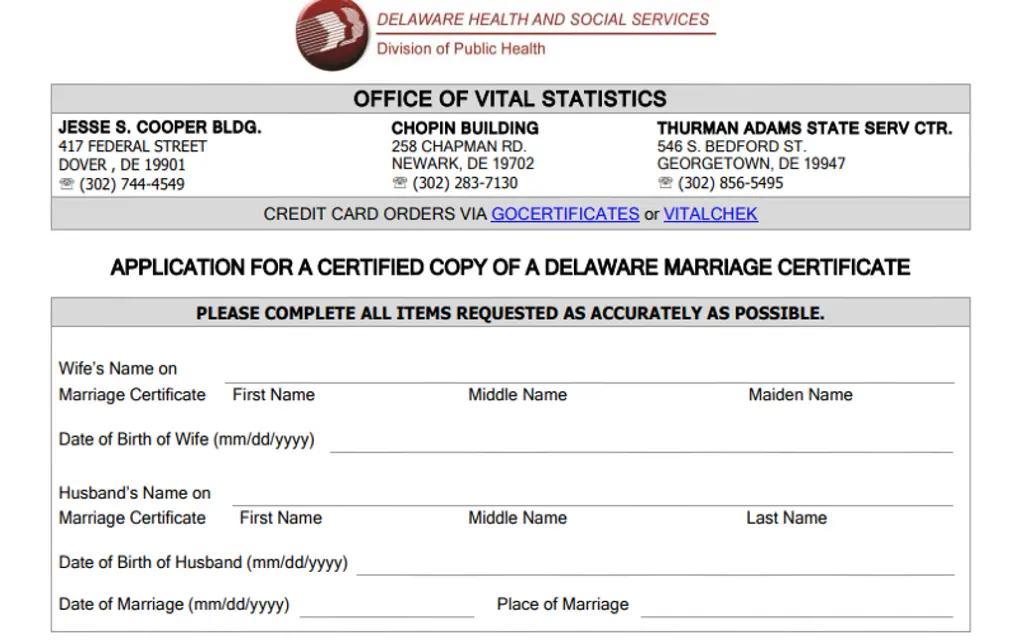 For records that have entered the Delaware Public Archives, the public can email [email protected] with details of their request or mail the Archives at:
Delaware Public Archives (DPA)
121 Martin Luther King Jr. Boulevard North
Dover, DE 19901
(302) 744 5000
Records will cost $10 for up to ten pages and $5 for every additional ten pages. Requesters can ask for up to five pieces of information at a time. They can also visit the DPA at the same address.
If you need multiple Delaware public records and the process seems too expensive and complicated, use our form to request this information quickly and for free.
1TITLE 29. (n.d.). Delaware Code Online. Retrieved May 28, 2022, from <https://delcode.delaware.gov/title29/c100/>
2Delaware State Police. (n.d.). State of Delaware. Retrieved May 28, 2022, from <https://dsp.delaware.gov/>
3(n.d.). Background Check Center: DHSS. Retrieved May 28, 2022, from <https://backgroundcheckcenter.dhss.delaware.gov/>
4Governor Bans the Box for Delaware Public Employees – State of Delaware News. (2014, May 8). State of Delaware News. Retrieved May 28, 2022, from <https://news.delaware.gov/2014/05/08/governor-bans-the-box-for-delaware-public-employees/>
5Obtaining a Certified Delaware Criminal History – Delaware State Police – State of Delaware. (n.d.). Delaware State Police. Retrieved May 28, 2022, from <https://dsp.delaware.gov/obtaining-a-certified-criminal-history/>
6TITLE 10. (n.d.). Delaware Code Online. Retrieved May 28, 2022, from <https://delcode.delaware.gov/title10/c009/sc03/>
7EXPUNGEMENT OF A JUVENILE RECORD. (n.d.). Delaware Courts. Retrieved May 28, 2022, from <https://courts.delaware.gov/forms/download.aspx?id=90008>
8Delaware Criminal Justice Information System Online Wanted Person Review. (n.d.). State of Delaware. Retrieved May 28, 2022, from <https://pubsrv.deljis.delaware.gov/WantedPublic/Default.aspx>
9Delaware Criminal Justice Information System. (n.d.). State of Delaware. Retrieved May 28, 2022, from <https://deljis.delaware.gov/>
10(n.d.). Delaware Sex Offender Registry. Retrieved May 28, 2022, from <https://sexoffender.dsp.delaware.gov/>
11Fair Credit Reporting Act. (n.d.). Federal Trade Commission. Retrieved May 28, 2022, from <https://www.ftc.gov/legal-library/browse/statutes/fair-credit-reporting-act>
12Rodgers, M. J. (2022, April 20). A Complete Guide to Delaware Background Checks [2022]. iprospectcheck. Retrieved May 28, 2022, from <https://iprospectcheck.com/delaware-background-check/>
13(n.d.). Delaware Courts – State of Delaware. Retrieved May 28, 2022, from <https://courts.delaware.gov/>
14An Overview of the Delaware Court System – Delaware Courts – State of Delaware. (n.d.). Delaware Courts. Retrieved May 28, 2022, from <https://courts.delaware.gov/overview.aspx>
15State of Delaware Courts Judicial Case Database. (n.d.). CourtConnect. Retrieved May 28, 2022, from <https://courtconnect.courts.delaware.gov/cc/cconnect/ck_public_qry_main.cp_main_idx>
16Opinions – Delaware Courts – State of Delaware. (n.d.). Delaware Courts. Retrieved May 28, 2022, from <https://courts.delaware.gov/opinions/index.aspx?ag=supreme+court>
17Delaware. (n.d.). File &amp; ServeXpress. Retrieved May 28, 2022, from <https://www.fileandservexpress.com/delaware/>
18(n.d.). District of Delaware | United States Bankruptcy Court. Retrieved May 28, 2022, from <https://www.deb.uscourts.gov/>
19(n.d.). Public Access to Court Electronic Records | PACER: Federal Court Records. Retrieved May 28, 2022, from <https://pacer.uscourts.gov/>
20Delaware Bankruptcy Court. (n.d.). PACER. Retrieved May 28, 2022, from <https://pacer.uscourts.gov/file-case/court-cmecf-lookup/court/DEBK>
21Bankruptcy Case Files at the National Archives at Kansas City | National Archives. (2021, June 9). National Archives |. Retrieved May 28, 2022, from <https://www.archives.gov/kansas-city/bankruptcy-case-files>
22(n.d.). Department of Correction – State of Delaware. Retrieved May 28, 2022, from <https://doc.delaware.gov/>
23(n.d.). Wikipedia, the free encyclopedia. Retrieved May 28, 2022, from <https://vinelink.vineapps.com/search/DE/Person?siteRefId=DESWVINE>
24General Information on the Victim Notification Program. (n.d.). Department of Justice. Retrieved May 28, 2022, from <https://www.justice.gov/criminal-vns>
25(n.d.). ConnectNetwork | Connecting you with incarcerated loved ones. Retrieved May 28, 2022, from <https://web.connectnetwork.com/>
26(n.d.). GettingOut. Retrieved May 28, 2022, from <https://www.gettingout.com/>
27Visit an Inmate – Department of Correction – State of Delaware. (n.d.). Delaware Department of Correction. Retrieved May 28, 2022, from <https://doc.delaware.gov/views/visit_inmate.blade.shtm>
28(n.d.). Delaware Health and Social Services – State of Delaware. Retrieved May 28, 2022, from <https://dhss.delaware.gov/dhss/>
29(n.d.). Delaware Public Archives – State of Delaware. Retrieved May 28, 2022, from <https://archives.delaware.gov/>
30(n.d.). VitalChek: Order Your Vital Records Online. Retrieved May 28, 2022, from <https://www.vitalchek.com/v/?ScenarioName=ScenarioWebPlatformRedirect>
31(n.d.). GoCertificates.com: Birth Certificates | Death Certificates. Retrieved May 28, 2022, from <https://www.gocertificates.com/new/Index.aspx>